Course Testimonials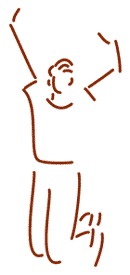 Touch for Health Kinesiology is an amazing system of evaluation and correction that any therapist would benefit from. - Darin Churchill, RMT
I want to thank you for all you did for me and the thousands of patients I have worked with over the decades! TFH Kinesiology was the biggest single post graduate factor in my success. - Michael Priestman, DC
The marriage of western concepts with the wisdom of Chinese Medicine are revealed in the logical, supportive and simple methodology. - Joani Bisson, RMT
There are many types of body and energy work. Touch For Health Kinesiology is the core... taking this course is like coming home. - Jo-anne Kennedy, RMT
Garry is an exceptional teacher, confident, kind, wise and gentle. I highly recommend his courses for a profound educational experience.
– Rachel Graham, Faculty International College of PKP
I really enjoyed your teaching style - kept my tired brain turned on and engaged. I value the clinical and personal experiences that you shared with us. I appreciate the time, energy and care you put towards making our TFH workshop a fun, smooth, educational, growth-inspiring experience. - Jennifer Moss, ND
Garry is a leader in the field of complementary and natural health care, profoundly knowledgeable and experienced, and a gifted professional. As a trainer he's creative, playful and spontaneous, a skilled communicator, compassionate and under-standing, a team player, and a leader by example. – Dawn King, Dawn King International, Corporate Trainer
The training Garry provided to our staff has greatly enhanced our quality of treatment to the people we serve. – Wayne Christian, (former) Executive Director, Round Lake Native Alcohol and Drug Treatment Centre
An amazing approach in determining an individual's state of beings that specifically targets their health needs. - D. Churchill, RMT
I have told as many people as I can about your courses, because l've seen dramatic improvement in the quality of peoples lives. – Teresa Stokowski, Psychologist
Very empowering techniques for self-help and helping others – presented with skill and compassion. - Yolande Brunet, Businesswoman
Your presentations are well organized, thorough, and professional. These courses are a richly rewarding experience due to the qualities you bring to them; your commitment, training, empathy, and most especially your warmth and compassion. - Michael B. Priestman, Chiropractor
Client Testimonials
What separates Garry from treatments and advice I have received from other sources is his way of distilling and communicating the relationship of lifestyle to health and identifying the essential step-by-steps needed for me to achieve and maintain a foundatio. I believe Garry is a genuine expert in health and well-being and that his techniques far surpass the pharma-medicine model that many people would like to escape.
Many thanks for your help and advice on taking the steps needed to enjoy my life to the fullest! p.s. you should be writing books and reaching a much larger audience. - Dana M, Artist, Filmmaker
Garry and "Brain Gym" were introduced to us through a friend and neighbor. Even as a toddler, our son was adept at any activity involving fine motor skills, yet always seemed to be noticeably lagging in basic coordination and large motor function. Presently aged nine, he was starting to become aware of the physical differences between himself and fellow classmates or teammates, and we were concerned for both his development and his self-esteem.
After just one hour spent with Garry performing a series of Brain Gym activities, followed up with one month of assigned daily repetitive movements, our son's overall coordination has improved tenfold! In three months, we have seen a dramatic and progressive increase in coordinated movement including walking, running, throwing and agility, not to mention the welcome boost to his individual confidence level.
We highly recommend Brain Gym and Garry's caring, personalized service to anyone dealing with similar issues. The positive results acquired have eased our parental concerns, and most importantly, enriched our son's sense of self. - Tammy C.
I just returned from my 5th four-day national convention. Usually I am miserable the whole time with upset stomach and little sleep. In the past, I've always had to miss portions of the event and go to my hotel room to crash. I was so pleased this year as I felt good throughout the convention and was able to participate in everything! Thank you for your help with my health. I feel blessed that my daughter and I are your clients. – Cindy D, Senior IT consultant
I am sure you get this from many of your clients, however, I will say it anyway Garry. You mean a lot to me. I feel like you are always taking care of me and my son, even though we are the one putting the supplements in our bodies. Your genuine love and support is better than chocolate! - Stacey & Stevie
I sought help for problems of depression and post-traumatic stress disorder. In my sessions with Garry, issues such as food sensitivities, anxiety, nutritional deficiencies and childhood emotion blocks were addressed.
The results of working with Garry and approaching my issues with Applied and Educational Kinesiology are:
a) I am stronger and have more physical endurance
b) I am employable and successfully working for myself
c) I am more focused and relaxed
Garry is a dedicated professional and I believe I would not have achieved the balance in my life which I enjoy today without his assistance. - Tammy T, RMT
Garry is a world-class leader and practitioner. - Mahara Brenna, Vancouver Minister, Therapist & Performer
In treating my eight-year chronic pain condition, Garry has consistently delivered achievable and effective pain management and rejuvenation solutions that I can't find anywhere else. His invaluable multi-disciplinary approach is truly unique. – Dan R, 911 call taker
I first came to see Garry to deal with a tragic family death. My health had already been deteriorating for several years. I was suffered from depression, chronic fatigue, multiple allergies, unable to cope with stress, 60 pounds overweight, and hadn't been able to breathe through my nose for several months.
My life was not working and was getting more and more difficult with each day. I went to see my doctor, but when I asked her what was wrong, she shrugged her shoulders and could not answer me. When the test results came back I was told that there was nothing wrong with me and that I would just have to learn to live with my body. She sent me to see a specialist who also gave me the same answer. I thought I was going crazy. A friend sent me to see Garry and from the very first session he was able to help me identify some of my key stressors and a course of action that made sense. Finally I connected some answers to all the doubt, fear and craziness I had been experiencing. With his coaching, I embarked upon a journey of recovery.
Today, I am experiencing greater levels of health than I ever dreamed possible. I have a fulfilling new career. I lost most of the extra weight I carried. I have sustained energy. And I can breathe again! That dark unhealthy period of my life is a far away distant memory. Thank you Garry, you've saved my life! - Kristie P, Massage and Aromatherapist